A modern bathroom where functionality and aesthetics blend seamlessly are the key to create a truly unique and relaxing environment.
Our interior designers are specialized in designing modern bathrooms with innovative and customized furnishing solutions, using premium materials to meet all the needs and preferences of our clients.
Our bathrooms are designed to provide a sense of well-being and comfort in a visually refined and functional space.
Bathroom is one of the most important space in the house and it deserves to be furnished with care and elegance.
With our designer bathroom furniture, you can create a unique and functional space where every aspect is carefully designed to ensure maximum comfort and usability.
From furniture to sanitary fixtures to accessories, we offer a wide range of solutions to meet your aesthetic and functional needs.
DESIGNER BATHROOM FURNITURE
In a design bathroom, furniture plays a fundamental role in creating an ideal environment.
Each piece of furniture, from the sink to the cabinet, is designed to combine functionality and aesthetics, offering original solutions with a unique style.
Premium materials such as solid wood, ceramic, and marble are combined with sleek lines and essential shapes to create designer bathroom furniture that transforms everyday routines into a wellness experience.
With our attention to detail and careful selection of materials, bathroom furniture becomes a distinctive feature and adds value to your space.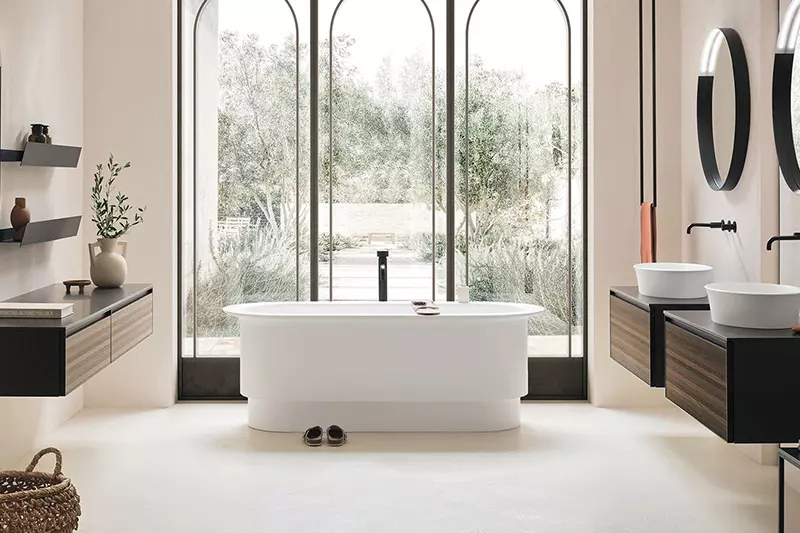 Bathroom accessories are essential elements to add the finishing touches to the decor of this space. Carefully choosing these accessories adds an extra touch of style and personality to the entire bathroom.
Our bathroom accessories are made withhigh-quality materials and feature modern designs.
From shelves to towel holders, from lamps to mirrors, our accessories are designed to meet the needs of every type of bathroom, whether small or large, and ranging from classic to modern and contemporary styles. With our wide range of options, it's possible to create a unique and personalized bathroom that suits the preferences of its inhabitants.
The wellness area of the house represents a true oasis of relaxa and regeneration where you can switch off from the daily frenzy and rediscover psychophysical balance.
It is possible to create a sauna or a Turkish bath for your bathroom, depending on the needs and function sought.
Design elements, such as mosaic tiles or wood cladding, help to create that welcoming atmosphere you need, while the lighting studied down to the smallest detail adds a sensory note perfect for relaxing and recharging.
The creation of a wellness area in the bathroom is the ideal solution for those who want to enjoy pleasant moments at home.
Concept, design and optimization of spaces are essential steps to create a functional and aesthetically pleasing bathroom environment.
TELL US HOW YOU IMAGINE YOUR BATHROOM
Discover our collection of modern design bathrooms and let yourself be inspired by our proposals.
Contact us to design your ideal bathroom together.